3 Essential Sales Mindsets to Ask For The Money Without Sounding Disingenuous, Greedy, or Money-Hungry
Nov 11, 2017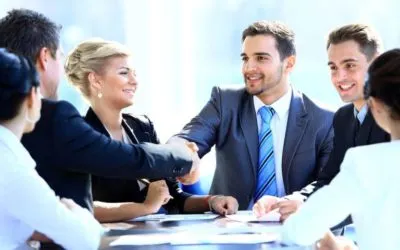 Picture this.
You're talking to a high level prospect about buying your services. Everything is going great. You're about to sign the deal and shake their hand – at least, that's what it looks when you've fast-forwarded a few minutes into the future in your head. What else is going through your mind?
"How do I ask for the deal without appearing insincere, selfish, or all about the money?"
You need these 3 mindsets.
Mindset #1: Think Of Persuasion As A Tool To Help People Make A Positive Difference In Their Lives
When speaking to a prospect, think about how your product or service will benefit them.
Instead of seeing persuasion as a method of getting someone to do what you want (manipulation), see it as a tool to make a positive impact on them. This removes the fear of being disingenuous.
It's easy to motivate someone when you know your product is good for them.
Mindset #2: Offer Real Value Whether They Buy From You Or Not
This could be in the form of expert information. Focus on educating them or teaching them something.
Your role is to help them get the help they need, in an expedited fashion. Even if they tell you that your service isn't for them, the faster you help them get them to the point they realize this, the better you'll feel.
As an expert, you helped them come to their conclusion. They come away smarter and more well-educated on what they need.
When you focus on teaching, it helps you feel good, helps them see you as a helpful advisor – someone who is on their side – and positions you as an expert, all at the same time.
You are doing your prospect a favor. This is the law of reciprocity – when you do someone a favor, they want to reciprocate.
This helps you to have the time and energy for the next prospect who may become your client.


Mindset #3: Failing To Give Someone The Opportunity To Say 'Yes' Is A Disservice To Them
Potential clients need an opportunity to say 'Yes' and it is your role to provide that opportunity regardless of how you feel about it.
Asking potential clients a 'Yes' or 'No' question to give them the opportunity to get what they need or move on is the simplest and most professional way to go.
Focus On Helping, Not Selling
At its core, sales is about demonstrating you are an expert that cares.
When you focus on helping and not selling, you are doing more than generating revenue for yourself or your business. You are establishing a bond with your potential clients (the people who value you and want to interact with you) and you feel good about yourself.
So don't focus on selling, use your expertise to educate people and help them make decisions.
About the Author: John Payne. Author, Speaker, and Peak Performance Coach known for his impactful style of speaking on how Confidence and Sales Skills relate to achieving success in Business and Relationships. In 2016, he began Selling With Honor to help other coaches attain their dreams.


Ready to Strategize Your Action Plan Together?
Eliminate confusion and roadblocks in your business. It's time for a game changer to develop your talents and become a more powerful you. Let's get you on track to reach your next level.
Spots are limited, click below to fill out an application.
Want More?
Get exclusive insights and actionable sales advice