Inc. Magazine's Grow Your Company Conference (GrowCo) is a three-day event that brings together entrepreneurs like you, hungry for the advice, proven strategies, and necessary connections to grow a business. With 40 years of experience covering entrepreneurship, and educating and empowering entrepreneurs, Inc. understands what business builders need and what will make them more effective. Motivating keynotes and educational breakouts will leave you inspired in so many ways —and with shortcuts and insights to take your business further than you ever imagined.
2018 Speakers TBA. Notable past speakers include: Richard Branson, Sheryl Sandberg
2. Collision
APRIL 30 – MAY 3, 2018 • NEW ORLEANS, LA • $845 – $24,895
Collision is "America's fastest growing tech conference", with almost 20,000 attendees from 119 countries. Attendees include CEOs of both the world's fastest growing startups and the world's largest companies, alongside leading investors and media.
Notable Speakers:
Al Gore
Kevin Lin – Co-Founder, Twitch
Ba Blackstock – Co-Founder & CEO, Bitmoji
Jeff Jordan – Partner, Andreessen Horowitz
Jillionaire – Musician, Major Lazer (Yes, really)
3. Small Giants Summit
MAY 15-18, 2018 • DETROIT, MI • $845 – $24,89

The SGS Summit celebrates showing up authentically and developing meaningful relationships with like-minded, purpose-driven leaders. No superficial networking or selling happening here. Expect to build a widespread network of leaders you can trust. All sessions are designed leave you with practical takeaways to apply to your organization right away, with interactive workshops, curated panels, deep-dive break-out sessions, and TED-style storytelling format.
4. HustleCon
JUNE 22, 2018 • SAN FRANCISCO, CA • $149 – $2,499

HustleCon is Startup Tactics for Non-Techies. Attend this one-day startup event where the world's most successful non-technical founders share their origin stories and teach practical everyday tactics to launch and grow their business.
Notable Speakers:
Jake Kassan – Co-founder & CEO, MVMT Watches ($100mm revenue in 5 years at 26 years old, built on Instagram)
Brian Scudamore – Founder, 1-800-GOT-JUNK ($320mm in revenue, started at 19 years old)
Henrik Werdelin – Co-founder, BARK (95% customer retention rate, 70% revenue growth year-after-year)
5. MozCon
JULY 9-11, 2018 • SEATTLE, WA • $1,049 – $1,549

We all know Moz as the definitive SEO experts. Join exceptional speakers at this 3-day conference full of forward-thinking, tactical sessions in SEO, growth marketing, the mobile landscape, analytics, content marketing, and more.
Notable Speakers:
Jono Alderson – Mad Scientist, Yoast
Oli Gardner – Co-Founder, Unbounce
Rand Fishkin – Co-Founder, Moz and Inbound.org
6. Unbounce Call To Action Conference 2018
AUGUST 27-30, 2018 • VANCOUVER, CANADA • $549 – $699

Sick of the recycled fluff you hear at conferences? This 3 day training covers a wide array of topics, such as conversion optimization, email marketing, copywriting, landing pages, PPC, analytics, content marketing and much more. If you're ready to learn some new skills and become a better marketer to significantly grow your company, then Call To Action Conference is for you!
2018 Speakers TBA. Past speakers include: Oli Gardner (Unbounce), Wil Reynolds (Seer Interactive)
7. Inbound 2018
SEPTEMBER 4-7, 2018 • BOSTON, MA • $299 – $1,599

Experience breakout sessions from some of the biggest names and brightest minds in sales, marketing, and business. Be inspired by their visions for the future.
2018 Speakers TBA. Past speakers include: Brené Brown, Michelle Obama, Dr. Ed Catmull (Pixar), John Cena, Brian Halligan (HubSpot), Seth Godin
8. HYPERGROWTH 2018
SEPTEMBER 24, 2018 • SAN FRANCISCO, CA • $199 – $699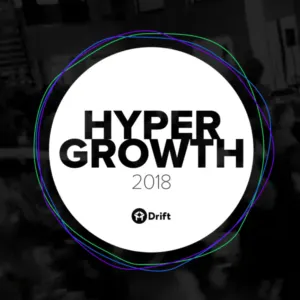 HYPERGROWTH brings together entrepreneurs and business leaders who have built brands, sparked movements, and found ways to unlock unprecedented growth. Get connected to an amazing group of people who are all after the same thing: unlocking and unleashing their true potential in order to achieve the results and the life they desire.
2018 Speakers TBA.
Let us know in the comments of any other "can't miss" conferences happening this year, or which of these you'll be attending!
Ready to Strategize Your Action Plan Together?
Eliminate confusion and roadblocks in your business. It's time for a game changer to develop your talents and become a more powerful you. Let's get you on track to reach your next level.
Spots are limited, click below to fill out an application.
Want More?
Get exclusive insights and actionable sales advice